Fig season is a little confusing. There's always a big rush in June, but then they tend to disappear for a few weeks, only to come back in full swing for the rest of the summer and early fall. Apparently this is because they have two back-to-back fruiting seasons. But I've been noticing them popping up in supermarkets this week. So I guess fig season is here, at least for now! The next time you spot them at the market, be sure to grab one or two baskets. That way you'll have enough to make this fig cake and snack on the rest while it's in the oven.
fig cake ingredient substitutions
While I'm usually a big fan of buttermilk in cakes like this one, I decided to go with plain yogurt here. I wanted to make this a little easier to throw together using ingredients you probably have around the house. So on a day that you just happen to find some really delicious figs, you should be able to throw it together without much planning.
Like buttermilk, yogurt gives this fig cake moisture and a little tang. But unlike buttermilk, it's probably actually in your fridge right now. I mean, that's what was in my fridge the day that I brought these beauties home from the fruit market. If you happen to have buttermilk, you can instead use 1/2 cup buttermilk in place of the yogurt.
The only ingredient that's a little hard to find is orange blossom water, but you can get it at a supermarket with a good international food aisle, just about any Middle Eastern market, and of course online. It's good to have around for Middle Eastern baking. If you can't find orange blossom water, this fig cake is also wonderful with a few drops of rosewater, which is a little easier to find. In addition to Middle Eastern markets, you can also find rosewater in South Asian markets. If you go with rosewater, be sure to use restraint, as it has a tendency to overpower.
Or feel free to omit flower-waters altogether, and let the figs speak for themselves. Or you can go with a little vanilla extract for something completely different (yet equally delicious).
Print
fig cake with orange blossom water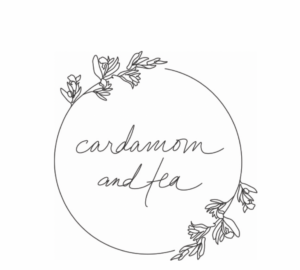 Prep Time:

20 minutes

Total Time:

1 hour
For the fig and brown sugar bottom:
Butter for greasing the pan

57g

melted butter (half a stick/

4 tablespoons

)

100g

light brown sugar (

1/2 cup

)

1/8 teaspoon

salt

300g

small fresh figs (about

10

–

11

oz)*
for the orange blossom yogurt cake:
200g

flour (about

1 1/2 cups

)

5g

baking powder (

1 1/4 teaspoon

)

1.5g

baking soda (

1/4 teaspoon

)

3g

salt (

1/2 teaspoon

)

2

large room temperature eggs (

110g

)

55g

melted and cooled butter (half a stick/

4 tablespoons

)

150g

granulated sugar (

3/4 cup

)

170g

plain yogurt (

3/4 cup

)**

15g

orange blossom water (

1 tablespoon

)
Instructions
To prep the fig and brown sugar bottom: Butter one 8-inch round cake pan. Cover the bottom with a parchment round.
Mix together the melted butter, brown sugar, and salt, and pour it over the parchment-covered cake pan. Use an offset spatula to spread the brown sugar out evenly over the bottom until it's completely covered.
Slice the figs in half. Arrange the figs cut-side-down over the buttery brown sugar.
To bake the cake: Preheat the oven to 350° F convection (177° C).
Sift together the flour, baking powder, baking soda, and salt in a mixing bowl.
Beat the eggs and butter together until they are very well incorporated. Then add the sugar, yogurt, and orange blossom water, and beat to combine well.
Pour the wet mixture over the dry mixture, and stir together just until everything is combined. It won't be completely smooth, and there might be some tiny lumps; this is completely fine. Don't over-mix!
Carefully pour the batter over the figs, smooth out the top a little bit with a spatula, and bake for about 30 minutes. It's done once you can insert a toothpick into the center and batter doesn't stick to it.
Let it cool for 5 to 10 minutes in the cake pan. Then trace around the edge with a butter knife to make sure it's loosened from the pan. Place a plate or cake-stand upside-down over the cake. Put on your grippiest oven mitts, and hold the plate and cake together so that your thumbs are underneath the cake pan. Carefully and quickly rotate it away from yourself and give it a quick up-and-down shake to release the cake from the pan. Remove the pan, slice, and serve.
Notes
* If you can't find small figs, you can use larger ones. Just make sure you cut them into about 1/2-inch slices instead of cutting them in half. To get the same look as these photos, slice the figs along their equators instead of stem to end.
** If you have Greek yogurt, you can substitute it here, but make sure you water it down slightly before measuring (using either a little milk or water). It needs to be the approximate consistency of plain, unstrained yogurt (Greek yogurt doesn't have as much moisture).