This Persian love cake has a wonderfully moist and buttery texture, as well as a subtly fragrant flavor. Use lemon or lime zest, just enough cardamom and rosewater, and drizzle it with a rosewater citrus icing for a nice and tangy-floral sweetness.
The recipe in this post has you covered! But I've also put together a few tips and tricks to ✨style✨ your Persian love cake just so. But it's hard to go wrong—drizzle it with icing and sprinkle on some rose petals, and it's bound to be a beauty.
More Inspiration
I've been in love with Persian love cake ever since trying Yasmin Khan's recipe. Having grown up with my grandmother's rich cardamom baklawa (AKA baklava), its particular flavor combination speaks my language. Over the years, I've written several recipes inspired by this pastry (e.g. Persian love madeleines, Persian love pop tarts, and even Persian love granola, which I'll post soon enough).
But it recently occurred to me that I've never actually shared my own recipe for Persian love cake itself.
cake decorating tips
To get a similar look to the cake in these photos, all you've got to do is prep your ingredients carefully, and then assemble them whimsically. Here are 5 tips:
1) buy bright green raw pistachios
Roasted pistachios are the easiest to find, but they're not so great for decorating things like this Persian love cake. When you want something bright green and stunning, go the extra mile to track down some raw green pistachios. You can find them in all Persian and South Asian markets, most bulk food shops, and online if all else fails.
These pistachios are a little on the pricey side, so you might want to also buy a more reasonable bag of Kirkland salted roasted ones for snacking. Hide your stash of raw green ones in the baking drawer, and don't forget to add a passive aggressive note to deter roommates/partners/children. These are strictly 100% *for guests*.
2) finely grind your pistachios
Pistachios decorate many Middle Eastern sweets, but they are usually found in a few specific forms. While coarsely chopped pistachios are sometimes used to stuff things like baklawa, those big pistachio chunks are not usually found sprinkled on top. Slivered or ground are more traditional for sprinkling, and for good reason: they're pretty dang striking!
To finely grind your pistachios, simply place them in a food processor fitted with the blade attachment, and run it until they break down into a coarse meal. Stop way short of turning them into pistachio butter (but if you accidentally do… well, enjoy the pistachio butter!).
There will still be a few larger pieces, which is totally fine. I sometimes give them a shake so that the larger pieces rise to the top of the jar, and then skim those off for salads. Using a hand-held nut mill will get you a more consistent grind, but I'm going to assume you don't have room in your life for another gadget (yeah, me neither!).
3) buy quality edible dried roses
There are basically two kinds of edible dried rose products you can buy: buds or petals. While whole buds look super pretty, they are only technically edible in whole form, so I separate the petals before decorating with them (as I've done in these photos).
Or if you prefer, you can totally buy dried petals instead of dried buds. But bear in mind they've got a very different aesthetic. This strawberry rose cake is a great example of one decorated with already-separate petals. As you can see, they're a bit crinklier and look more like crepe paper. The Persian love cake in this post is an example of one that I decorated after separating a rose bud's petals.
But whether you buy petals or whole buds, ensure that you find quality brightly-colored ones. They're purely decorative, so there's no point in wasting money on drab beige petals. Buy from a reliable source (my favorite is Rose Dose, though others seem to agree because they're often sold out).
You should expect that already-separate petals will have a tiny bit of yellow/beige, but they should be primarily pink. Whole buds should be completely pink on the outside, with at least 2 layers of pink petals underneath. It's pretty typical, though, for whole buds to have a dark brown center.
4) separate rose bud leaves carefully
If you've got already-separated petals, you're good to go. But if you're working with whole buds, make sure you prep them carefully (lest you wind up with rose petal dust instead of whole petals):
Gently squeeze one rosebud from its base, pop off the stem, and discard any green bits. Continue gently squeezing it from the base to loosen the petals and release the black seeds. Let the seeds fall out of the base of the bud, and gently encourage the outer petals to fall away, stopping once you reach the beige/brown core. Feel free to save the brown cores to make tea, or discard them. I love leaving the black seeds in with the petals for some contrast, but you can filter them out if you want a more monochromatic pink look.
5) make sure your icing is the right consistency
Make sure your icing is thick enough to set opaquely, but not so thick that it's hard to pour. Follow the weight measurements in the recipe below, and you'll be just fine, or feel free to eyeball it. Add liquid 1/2 teaspoon at a time to thin it out, or add powdered sugar a tablespoon at a time to thicken it.
how to get sharp cake edges:
1) bake your cake in a well-buttered parchment-lined pan for easy removal
This cake is pretty eggy and moist, and it's semi-naked after decorating, so don't skip the parchment liner step. This will ensure easy removal and sharp edges. Here's a tutorial (it's super easy). When you butter the pan, be sure to really get in the corners.
2) flip your cake upside-down before decorating if you want sharp edges
This recipe bakes up relatively flat, but sometimes it domes very slightly. If your cake domes significantly (more likely if you're not using grams and accidentally use too much flour), feel free to shave off the top so it lies flat. Either way, you'll want to flip it over before icing if you're looking for a sharp and even top. I love the way a messy, drizzly icing looks on top of a cake with super crisp edges.
But it also looks cute with a domed top too, and it's really a personal preference. If you're decorating the top of a domed cake, you'll want to make your icing a bit thicker. Otherwise, it'll run down the sides too readily before it has a chance to set.
Print
Persian Love Cake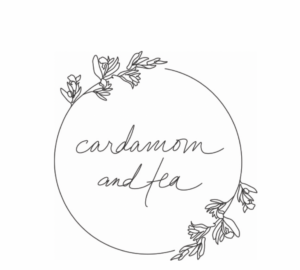 Prep Time:

15 minutes

Total Time:

2 hours 15 minutes

Yield:

8 to 12 servings
for the cake:
Butter, for greasing the pan

195g

(

1½ cup

) all purpose flour

265g

(

2⅔ cups

) almond flour

9g

(

2 tsp

) baking powder

2.5g

(

1 tsp

) baking soda

5.5g

(

1 tsp

) salt

115g

(

1

stick) unsalted butter, softened at room temperature

300g

(

1½ cups

) sugar

2g

(

1 tsp

) lemon or lime zest

1g

(

½ tsp

) cardamom

200g

eggs (

4

large), room temperature

240g

(

1 cup

) buttermilk

10 g

(

2 tsp

) rosewater
for the icing and decorations:
110g

(

1 cup

) powdered sugar

7.5g

(

1½ tsp

) rosewater

15g

(

1 Tbsp

) lemon or lime juice
Edible dried rose petals (optional)
Ground raw pistachios (optional)
Instructions
Preheat your oven to 350°F (180°C).
Butter and line a 9 inch (23 cm) or a tall 8 inch (20 cm) cake pan* with a parchment round.
In a medium mixing bowl, whisk together the flour, almond flour, baking powder, baking soda, and salt. Break up any clumps with your whisk, or sift it if you're having trouble working out all the lumps. Set aside.
Place the butter, sugar, citrus zest, and cardamom in the bowl of a stand mixer fitted with the paddle attachment (or use a large mixing bowl with hand-beaters). Beat at medium-high speed for about 2 minutes, until fluffier and completely homogenous.
Crack the eggs into a container that has a pour spout. Run the mixer at medium-high speed and add the eggs 1 at a time with the mixer running. Wait for each egg to completely incorporate before adding the next one. Scrape down the bottom and sides of the mixing bowl and beat again to make sure it's fully incorporated.
Add the buttermilk and rosewater and mix together just to incorporate. Scrape the bottom and sides of the bowl again to make sure it's mixed evenly.
Add the dry ingredients to the wet ingredients, turn the mixer to low, and let it mix just until smoothly incorporated. Do not overmix. Scrape the bottom of the bowl and give it just one or two folds by hand to make sure it's evenly incorporated.
Pour into the parchment-lined pan and smooth out the top.
Bake for about 50 minutes, until a toothpick inserted in the center comes out cleanly.
Carefully trace around the edges of the pan with a thin knife. Flip it onto a cooling rack. Let it cool for at least 1 hour before decorating.
While your cake cools, make the icing by whisking together the powdered sugar, rosewater, and citrus juice until completely smooth.
Place your cooled cake bottom-side-up on a plate or cake stand. If your cake domed (usually from not measuring with weight and using too much flour), first shave off the top so it sits levelly, then place it bottom-side-up.
Pour the icing on the top, then smooth it out to the edges using a knife or offset spatula. Sprinkle with pistachios and rose petals before it sets.
Serve immediately, store leftovers at room temperature for a day or two, and store anything you won't eat in the near future in the freezer ASAP (do not refrigerate or it will stale).
Notes
* While a tall 8 or 9 inch cake pan seems to work for most, a few folks have mentioned that it overflowed on them. If your pan is shallow, you might wish to use a slightly wider or deeper one to prevent overflow. Also note that a sloped-sided pan will hold less volume—a standard steep-sided pan will make it less likely to overflow.