"Sweet and savory" is such an important concept in making really good Middle Eastern food, although I think this dichotomy is generally over-attributed when people see neutral foods in a context that's simply different than the one they're used to—but either way, it's majorly important, and sour almost always finds its way in too. It's a big deal in everything from riza sh'ariyeh with lots of golden raisins, to muhammara, to falafel with amba. And so, while not necessarily traditional Middle Eastern fare, cranberry sauce is the kind of thing I could totally imagine seeing on a meze tray. And likewise, it brings that little extra mouth-watering sweet and sour something to all those buttery carbs on a Thanksgiving table. In the words of Samin Nosrat, "Often, the only acidic thing on the entire table is cranberry sauce, which is why most people just keep spooning cranberry sauce onto their plates."
A few recipe notes
Most recipes call for orange juice, apple cider, or another slightly tangy fruit juice, but I'm a big fan of using lemon juice for a little extra acidity. And don't be fooled by the teeny-tiny pinch of cardamom in this recipe. It's the kind of thing you want just a hint of—adding any more can end up taking over the flavors of this dish and turning it into a soapy mess. You want cranberry sauce to be the kind of thing you could slather on anything at the table, so it's important to keep its flavors subtle and dynamic.
more cranberry sauce
Classic spiced cranberry sauce in the Kitchenista's Thanksgiving Handbook
Maureen Abood's rosewater pistachio cranberry sauce (more on rosewater)
Print
cardamom-spiced cranberry sauce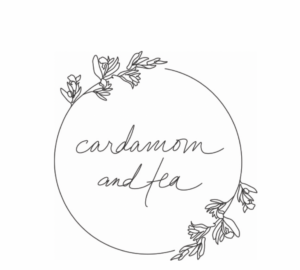 Prep Time:

5 minutes

Total Time:

about 3 hours
3/4 cup sugar
3 tablespoons lemon juice
1/4 cup water
11 ounces cranberries (fresh or frozen, about 3 1/2 cups)
1/8 teaspoon ground cardamom
Instructions
Combine the sugar, lemon juice, water, cranberries, and cardamom. Bring to a boil over medium-high heat. As soon as it starts to boil, reduce to a simmer and cook for about 3 minutes for fresh, 5 minutes for frozen. Stop cooking as soon as the cranberries break down into a bright red sauce, with a few chunks remaining.
Chill for at least 3 hours and serve cold or at room temperature.