This is probably not the most inviting way to start this post, but real shawarma is pretty much impossible to make at home. But that's okay because this recipe isn't for real shawarma—it's for something that tastes very much like shawarma, but isn't made with the same technique (i.e., doesn't require a giant spit rotisserie).
My recipe's marinade will taste very familiar to anyone who's ever ordered a sandwich from a halal cart. But even more importantly, this homemade shawarma's texture replicates those crispy bits that get sheared off the surface of that giant rotating cone. So while I won't try to convince you that this is exactly the same as the shawarma you know and love, I will say that it's a really delicious home-made version, and makes a wonderfully flavorful, quick dinner.
There are lots of recipes online for homemade shawarma, and most of them recommend roasting medium to large pieces of marinated chicken, then slicing and serving. There's a certain logic to this method, because with real shawarma, you do indeed slice thin pieces from a big block of cooked meat, but I think this technique is missing something important. The large cone-shaped rotisserie is actually made up of a bunch of thin marinated layers that get stacked up on the spit, kind of like receipts on one of those stabby check spindles.
Because of all this layering, every bite is super flavorful. And because of the constant heat from the rotisserie, the exterior is always getting crispy while the whole shawarma cone gradually gets whittled down. But when making shawarma at home with a conventional oven, if you leave the meat in big chunks before marinating, it becomes impossible to recreate this flavor and texture.
And so, even though it doesn't look anything like real shawarma, my favorite way to recreate the flavors and textures of this dish is to simply start out with thinly sliced pieces of raw chicken before marinating and roasting. With the increase in surface area, each piece gets covered in a really good amount of marinade, and you end up with lots and lots of golden brown and delicious pieces.
Print
shawarma platter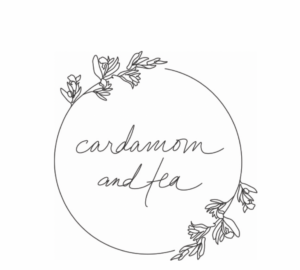 or try this other method of at-home shawarma
Prep Time:

35 minutes

Total Time:

1 hour

Yield:

6 servings
For the chicken shawarma:
2 pounds boneless skinless chicken thighs *
2 tablespoons lemon juice
2 tablespoons olive oil (not extra virgin—or use another neutral oil), plus more for the pan
1 1/2 teaspoons salt (or to taste)
2 tablespoons baharat **
2 cloves garlic, crushed with a press or minced
For the yellow rice:
1 cup basmati (or another long grain) rice
2 tablespoons butter
1 teaspoon turmeric
1 pinch saffron (optional)
1 1/3 cups water (plus more for soaking and rinsing)
3/4 teaspoon salt, or to taste
For the salad:
1/2 tablespoon lemon juice
1 tablespoons extra virgin olive oil
1/4 teaspoon salt (or to taste)
1/4 teaspoon black pepper
1 teaspoon sumac (or to taste / optional)
2 plum tomatoes, large dice
3 Persian cucumbers, large dice
1 small romaine heart, cut into large pieces
2 tablespoons finely diced onion (green, red, or white)
1 small bunch parsley (or 1/2 1 large bunch), leaves coarsely chopped (reserve some for garnish)
For the lemon-tahini sauce:
1/4 cup tahini
3 tablespoons lemon juice
3 tablespoons water
1/4 teaspoon salt, or to taste
Instructions
Make the shawarma: Slice the chicken into thin, flat strips. To slice, angle your knife 45 degrees against the cutting board, pointed away from your non-dominant hand.
Combine the chicken thigh strips, lemon juice, olive oil, salt, baharat, and garlic in a ziplock bag. Carefully squeeze the bag to mix everything together until the chicken pieces are evenly coated. Let them marinate for at least 20 minutes (up to overnight).
Preheat the oven to 475° F convection while the chicken marinates.
Lightly coat a sheet pan in oil, and distribute the chicken in 1 even layer. Roast for about 25 to 30 minutes, stirring once about half-way through. The shawarma is done once the pieces are crispy and deep golden brown.
Make the rice: Soak the rice for 5 minutes, covered by about an inch of water. Swish it around, strain it, and then rinse it with new water for about 15 seconds. Let the excess water drain away. If the water that drains away isn't clear, soak it for 2 more minutes and repeat.
Melt the 2 tablespoons of butter over medium heat. Once melted, add the turmeric and saffron and stir it for just a couple seconds.
Add in the drained rice, 1 1/3 cups water, and salt, stir together, and bring to a simmer over high heat. Once simmering, reduce to low, cover, and cook for 14 minutes. Do not stir it or open the lid.
Once 14 minutes have passed, turn off the heat and let it rest, covered. Do not lift the lid at any point.
Make the salad: Place the lemon juice, olive oil, salt, pepper, and sumac in the bottom of a medium mixing bowl. Add the tomatoes, romaine, onion, and parsley on top (in that order) and don't mix everything together until you're ready to serve (or feel free to dress it at the last minute, as pictured).
Make the lemon-tahini sauce: Whisk everything together until it's the consistency of creamy salad dressing. It'll seem really separated and thin at first, but it will start to thicken as it emulsifies.
three ideas for serving:
Serve everything together on a big platter (shawarma, rice, salad, sauce, parsley for garnish)
Serve everything family style, as separate dishes
Set up a buffet and have everyone make their own shawarma bowl
Notes
* I know, chicken thighs aren't everyone's favorite, but they're really the best option for making shawarma in the oven. If you use chicken breast, by the time they're crispy on the outside, they'll be totally dry on the inside. Chicken thighs have more fat and are delicious crispy (think of it sort of like making crispy bacon).
** If you don't have baharat blend and don't feel like making a 7 spice blend, simply use 2 teaspoons paprika, 2 teaspoons cumin, 1 teaspoon black pepper, 1 teaspoon coriander, and a pinch of cinnamon.