A couple years ago, I really wanted to make a simple strawberry rose cake. But things that seem simple rarely are. Whenever I tried using fresh strawberries in the batter, the cake would turn out purple (or on a good day, pasty pink). And if it tasted like anything at all, it was completely soggy and water-logged.
Whenever I tried using powdered strawberries, the cake would turn out bright pink, but it would taste super bland. And yes, I tried reducing strawberry purée, I tried adding some jam, I tried roasting the strawberries, I tried adding both freeze-dried and puréed, I tried adding a few drops of pink food coloring, I tried a leavening-free angel food cake to make sure the berries' red pigment didn't react with the baking powder…
Yes, I tried it all.
So after two years of testing every recipe I could find, adapt, or write, I've finally come to terms with the fact that there's nothing better than Southern-style strawberry cake made with jello and box mix. It's just the pinkest and strawberriest. And you won't catch me trying to make a strawberry cake another way ever again.
You might be picking up on the fact that I'm usually a fan of from-scratch baking. But I finally learned to appreciate the appeal of box-mix while putting together a roundup of Valentine's Day desserts a few months ago. I included my friend Abeer's fabulous rose cardamom tres leches, which starts (but certainly doesn't end) with box mix. The little bit of rosewater she adds to the milk soak turns ho-hum cake mix into something completely new.
Her recipe inspired me to try box mix with my strawberry rosewater idea, and I'm so glad I did. It took a little experimenting to get this strawberry rose cake recipe just right. But I found that adding an extra egg white works perfectly with an added box of jello.
Further inspiration for this recipe comes from Patty Pinner's fabulous strawberry cake (Sweets: Soul Food Desserts and Memories), as well as Zoë François, whose passionfruit pavlova clearly inspired this cake's decoration (I've got instructions in the recipe, but you can of course decorate it however your heart desires). Anyway, just a few more desserty things for you to check out. On to the recipe, which is certainly as delicious as it is easy.
Print
strawberry rose cake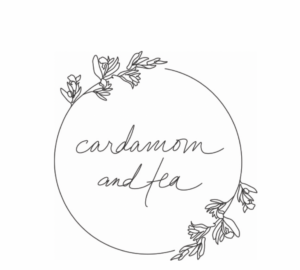 Prep Time:

20 minutes

Total Time:

1 hour

Yield:

8 servings
for the cake layers:
One

15.25

-oz box white cake mix (

430g

) *
One

3

-oz package strawberry jello (

85g

)

1/3 cup

vegetable oil (

70g

)

4

large egg whites (

140g

)

1 cup

water (

230g

)

2

–

3

teaspoons rosewater (10-1

5g

) **
For the cream cheese frosting & strawberry slices:
Two

8

-ounce bricks of cream cheese, softened to room temperature

1/2

stick (4 tablespoons) butter, softened to room temperature

1/4 teaspoon

salt

1 1/2 cups

(

230g

) powdered sugar ***

140 g

/ 1 c 1/4-inch sliced strawberries (do not mix into the frosting)
optional: edible rose petals for decorating
Instructions
For the cake: Preheat the oven to 350°F (175°C).
Mix together the cake mix, strawberry jello, vegetable oil, egg whites, water, and rosewater.
Line 2 8-inch cake pans with parchment rounds, and spray them with cooking spray. Pour the batter evenly into the 2 pans, and bake for about 30 minutes, until a toothpick inserted into the center comes out clean.
Remove the cakes to a cooling rack, and let them cool completely before frosting (careful—they're delicate).
For the cream cheese frosting and strawberries: Mix together the cream cheese, butter, salt, and powdered sugar over low speed with a stand mixer and whisk attachment. Once the powdered sugar is all mixed in, increase speed to medium-high, and continue mixing until it lightens in color and consistency (this should take about 2 minutes). Use at room temperature.
Place 1 cake layer on a cake stand (or use a rotating turntable and a cardboard cake round). Carefully level it if it has a hump (it probably won't, because box mix is magical). Cover with a thin 1/8-inch layer of frosting. Top with strawberries. Spoon several small blobs of frosting over the strawberries, and smooth them out into another 1/8-inch layer of frosting. Place another cake layer on top. Dump all the frosting on top of the cake, and use an offset spatula to smooth the frosting down the sides. Decorate it however you'd like.****
Notes
* If your box mix has a very different ingredients list than this recipe, feel free to follow those instead. Just add 1 extra egg white to compensate for the added strawberry jello packet. I used Duncan Hines white cake mix to test this recipe (not sponsored, just mentioning it for consistency), but any brand will do.
** I use 3 teaspoons (AKA 1 tablespoon), but you should use 2 if yours is particularly strong (or even 1 if it's extremely strong). If you err on the side of less rosewater, and then regret it later, you can always add a few drops to the frosting, or toss the strawberries in a few drops of rosewater to make up for it (you can always add, but you can't take away).
*** Jello cake tends to be very sweet, so this cream cheese frosting is not very sweet to compensate. If you like super sweet cream cheese frosting, feel free to add more powdered sugar, to taste.
**** Feel free to decorate the cake however you'd like, or recreate this look, inspired by Zoë François' pavlova. Use a rotating turntable and offset spatula to evenly frost the cake. Smooth out the top with your offset spatula while rotating the turntable. Once the top is smoothed out, use your offset spatula to make sweeps up the side, rotating as you go and allowing the sweeps to overlap a little. To make the sweeps, point the flat side of the offset spatula so it's facing the side of the cake, and place the spatula so it's oriented horizontally. In one swift motion, sweep up while placing a small amount of pressure on the cake (don't put too much pressure, or you will scrape off the frosting, which is not what you want to do). Allow the end of the sweep to sort of fall toward the center of the cake (kind of trail off toward the center as your spatula leaves the cake, but don't scrape the top).
Storage: This cake keeps surprisingly well in the refrigerator for up to 24 hours. If you're making it ahead for guests, you might want to make all the components and frost it at the last minute. Cake stales faster in the fridge than at room temperature, so if you're making it more than 24 hours ahead, you can freeze the individual cake layers (wrapped carefully).