Happy Pride Month! To celebrate, I baked this rainbow lamassu orange blossom cake for my LGBTQ+ Assyrian family, friends, and readers. May you be loved, accepted, and respected wherever you go, and may you always be free to be your beautiful self ❤️🧡💛💚💙💜
This recipe is adapted from Quin's vanilla almond rainbow petal cake—I cut the recipe in half to make it one single layer, subbed orange blossom water in place of the vanilla and almond extracts, and made my favorite cream cheese frosting instead of buttercream. Quin's recipe is wonderful, and you should check it out and give it a try (especially her beautiful rainbow petal design).
For anyone who's interested in replicating this rainbow sprinkle covered white chocolate lamassu, I've included instructions and a video in the recipe below. But a small word of warning—this rainbow lamassu takes a lot of patience and care. If you're the kind of person who likes building ships inside bottles and knitting intricate hats, this is totally up your alley. But if you're the kind of person who absolutely dreads fiddly tasks, like installing a tiny SIM card, or if you always manage to get the entire bottle of superglue on your fingers instead of on your favorite broken coffee mug, then this project isn't going to spark joy for you. But covering a cake in rainbow sprinkles is always a hit, so don't sweat it if you don't feel like fussing with all that tempering and piping.
Print
rainbow lamassu cake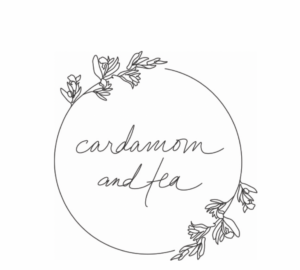 adapted from Butter Be Ready's vanilla almond petal cake
Prep Time:

30 minutes

Total Time:

90 minutes

Yield:

8 servings
for the cake:
200g

all purpose flour (

1 1/2 cups

)

7g

baking powder (

1 1/2 teaspoons

)

3g

salt (

1/2 teaspoon

)

55g

unsalted butter, softened to room temperature (

4 tablespoons

)

55g

neutral-flavored oil (

1/4 cup

)

150g

granulated sugar (

3/4 cup

)

2

large eggs, room temperature (

110g

)

160g

buttermilk, room temperature (

2/3 cup

)

15g

orange blossom water (

1 tablespoon

)
for the cream cheese frosting:
225g

(

8 oz

) package cream cheese, softened to room temperature

115g

butter, softened to room temperature (

8 tablespoons

)

250g

powdered sugar (

2 cups

)

7g

orange blossom water (

1 1/2 teaspoons

)

1

pinch salt
to assemble and decorate:
Cooled cake
Cream cheese frosting
Rainbow sprinkles
Instructions
For the cake: Preheat the oven to 350°F (180°C) convection (without convection, it might just take a couple more minutes to bake). Butter an 8-inch cake pan, line it with a parchment round, and then butter the parchment.
Use a mesh sieve to sift together the flour, baking powder, and salt, and set it aside.
Place the butter, oil, and sugar in the bowl of a stand mixer. Beat at medium-high speed with the paddle attachment until it comes together, then beat for another 3 minutes until it lightens a bit.
Add the eggs, one at a time, allowing each to incorporate completely before adding the next. Then add the buttermilk and orange blossom water, and beat until combined.
Add the dry ingredients to the wet ingredients, and mix just until it comes together into a smooth batter (don't overmix it—it's ok if there are a couple little lumps).
Pour the batter into the cake round. Bake for about 35 minutes, or until a toothpick inserted into the center comes out clean.
Trace around the edge of the cake with a thin knife, and then invert onto a cooling rack (flip it one more time, so it's cooling flat-side-down). Let it cool completely before leveling or frosting.
For the cream cheese frosting: Combine the cream cheese, butter, and powdered sugar in the bowl of a stand mixer. Beat with the paddle attachment until light and fluffy, about 3 minutes.
To decorate: Once the cake cools, carefully shave a little off the top if it has a hump.
Evenly frost the cake with the frosting (use a rotating cake tray and offset spatula if you have them).
Decorate with rainbow sprinkles, or try your hand at a rainbow lamassu (follow instructions below—it'll take an additional 30 minutes or so).
Notes
To make this cake ahead:
The cake itself can be baked 16 hours ahead and left at room temperature. If you want to bake it a day ahead of time (or longer), wrap it tightly and freeze it as soon as it cools, or it will get stale (it will stale even faster in the refrigerator than at room temperature). Let the cake thaw for a couple hours at room temperature before you're ready to frost it.
Frosting can be made a couple days ahead of time and stored in the refrigerator, but must be brought to room temperature so that it's spreadable before you frost the cake.
The white chocolate lamassu can be made a couple days ahead of time and stored in the refrigerator. Leave it on the cutting board, and wrap the board with plastic wrap once the chocolate has hardened.
Cakes are best assembled and decorated as close to the last minute as possible, because they tend to stale a little in the refrigerator (especially as the butter hardens), but it can be kept in the refrigerator for about 8 hours without much negative effect. Try to let it come to room temperature for about an hour before you serve it.
rainbow lamassu decoration
White chocolate
Tiny round rainbow sprinkles
Large circle rainbow sprinkles (optional)
Draw the outline of a lamassu on a piece of paper (look at some photos online, and feel free to just print one if that's easier). Place the drawing on a small microwave-proof cutting board and masking tape it down so it doesn't move around. Place a piece of parchment paper on top of the drawing, and use about 4 small pieces of masking tape to keep it in place and hold it flat.
Temper some white chocolate (zap it in the microwave 10 seconds at a time, mixing between zaps, until it melts completely). Transfer the white chocolate to a pastry bag (or ziplock bag), and cut a small hole in the tip. Carefully pipe the outline of the lamassu in white chocolate (pipe at a 45 degree angle, rather than pointed directly down, and let the chocolate fall in a line).
Once you're completely done outlining, cut a larger tip in the bag, and go back and flood the rest of it. It will probably look a little rough and will probably harden a bit as you work—your priority is to stay in the lines and flood it with a somewhat thin layer (about 1/8-inch). Use a small offset spatula to help it spread out if you're having trouble piping thinly enough.
Once you're done, place the lamassu back in the microwave just for a few seconds to slightly warm it if it has hardened at all (it takes about 15 seconds in my microwave, so keep a very close eye on it). It should be melted, but still holding its shape. Use a small offset spatula to very carefully smooth out any lumps on the surface, without letting it spill over the sides (make sure it stays in the lines).
Once it's nicely smoothed out and pretty much level (it doesn't have to be perfect), top it generously with rainbow sprinkles. Carefully shake the excess sprinkles off the cutting board—tilt the board slightly in different directions to get them to fall off (being careful not to disturb the white chocolate too much—you don't want it to run).
Use your offset spatula to gently nudge the outline back into shape (some sprinkles will stick to the side of the outline, and you'll want to nudge those into the chocolate slightly, so that the outline isn't jagged).
Place in the refrigerator for at least 30 minutes, until it's completely solid.
Once your cake is frosted, carefully remove the tape from the parchment. Once the parchment is released from the cutting board, carefully lift it away and lift the lamassu away. Place the lamassu in the center of your cake, and optionally decorate the cake with a few large circle sprinkles.