This chicken biryani is an easy, streamlined version of Iraqi/Assyrian/Armenian biryani. It's got a ton of delicious spices, veggies, almonds, raisins, and caramelized onions, and it comes together super quickly. It's normally a special occasion dish, with each ingredient prepared with the utmost care. But if you prep everything simply as described in the recipe below, you can roast everything on a sheet pan. Make a pot of seasoned rice on the side, and everything comes together beautifully.
History of chicken biryani
If you'd like to learn more about chicken biryani, I wrote an article for Goya Journal about Middle Eastern and South Asian shared culinary roots. In the article, I write mostly about biryani and amba, two foods that travelled in opposite directions. While biryani comes from the Middle East, it's flourished into a whole bunch of delicious varieties throughout the subcontinent; and while amba originated as Indian pickled mango, it's taken on a life of its own in Iraq, where it has come to mean anything pickled in a fenugreek sauce. Check out the article to read more.
Print
easiest chicken biryani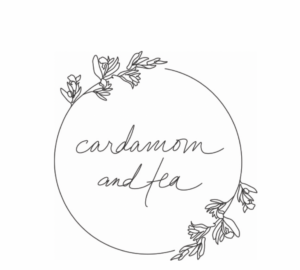 Prep Time:

20 minutes

Total Time:

35 minutes

Yield:

5 or 6 servings
for the rice
1 1/2 tablespoons

olive oil (

20g

)

2 teaspoons

of spice mix (see note below recipe)

1 1/4 cups

basmati rice (

215g

), rinsed until the water runs clear

1 2/3 cups

water (

390g

)

3/4 teaspoon

salt (or to taste) 
for the roasted veggies
1 tablespoon

+ 2 teaspoons spice mix (see note below recipe)

2 tablespoons

olive oil (

25g

)
Salt, to taste

2

medium gold potatoes, cut into 1/4-inch  wedges (

400g

)

½

medium onion, sliced (

115g

)

12 oz

(

340 g

) boneless, skinless chicken thighs, cut into bite-sized chunks (from about 1 lb (

455 g

) bone-in, skin-on) *

1 cup

frozen peas (

120g

)

1/4 cup

raisins (either black raisins or sultanas) (

40g

)

1/4 cup

pine nuts or almonds (

30g

)
Instructions
Preheat the oven to 475°F convection (245°C).
Once you have all the above ingredients prepped, start the rice. Place the 1 1/2 tablespoons oil in a large saucepan over medium heat. Once it's heated for a couple minutes, add the 2 teaspoons of spice mix, and stir together for 1 minute to temper.
Add the rice and stir to evenly coat it in the oil/spices. Add the water and salt, give it another stir, and increase heat to high. Once it comes to a boil, cover, and immediately reduce to low. Set a timer for 14 minutes, and leave it covered on low heat while it cooks (no peeking, and definitely no stirring). Once 14 minutes have passed, remove from heat and leave the lid on. Let it rest covered for at least 15 minutes (up to 30). Once it's ready, fluff it before plating.
While the rice is cooking, get the veggies and chicken going: combine the 1 tablespoon + 2 teaspoons of spice mix with the 2 tablespoons olive oil, and about 3/4 teaspoon salt (or to taste). Place the potatoes, onions, chicken, and peas on a sheet pan, and pour the spice mix over them. Use your hands to evenly coat everything in the spice mix.
Roast for about 20 minutes total, until the potatoes are done and everything is golden brown. About 2 minutes before the chicken and veggies are ready to come out of the oven, coat the raisins and pine nuts in a tiny bit of oil, and sprinkle them on the chicken and veggies to let them roast for just a couple minutes.
Fluff the rice, place on a serving plate, and top with the roasted ingredients.
Notes
biryani spice blend
1 tablespoon paprika (7g)
1 tablespoon yellow curry powder (7g)1 teaspoon crushed red pepper (2g, or less if you don't like spice)
Combine, then divide into 2 teaspoons (4g) for the rice and 1 tablespoon + 2 teaspoons (12g) for the veggies.