Fall is the heart of pome fruit season. There's all variety of apples, pears, and my all-time favorite: quince. You can absolutely make this recipe for rosewater olive oil quince cake with unsweetened apple sauce instead of quince purée. But if you happen to stumble upon some quince, this recipe is a wonderful opportunity to put them to use.
A little bit about quince:
They're wonderful cooked down with sugar into a thick paste (membrillo) or reduced less to make a lovely jam. If you cook them for any moderately long period of time, they'll turn the most incredible coral pink color. They've got a crazy amount of pectin, so they set up really well. You'll also notice that when you cut them open, they will instantaneously start to brown. Don't stress—this is just part of their charm. Think of it like wrinkles in linen.
Many online produce guides will go to great pains to inform you that eating quince raw is absolutely unheard of. However, they are indeed eaten raw in many parts of the world. This is partly because varieties in regions where they are eaten raw tend to be sweeter and less astringent. But I've got to say, my great grand father ate them raw from the time he lived in Syria to the time he lived in Chicago, and it apparently never phased him, so you do you.
serving suggestions
Whether the astringency of raw quince makes you swoon with delight or faint from distress, this cake makes a very happy tea-time snack for just about anyone. It's lovely served with earl grey, and while you don't need rose petals to decorate the top, it's a nice touch. Quince are from the rose family, like most of your favorite fruits. But I've always felt like they're the most floral of them all. So I love highlighting that note with a little extra flower power. Or feel free to go in a different direction with it, opting for a blend of apple pie spices instead of rosewater.
where to find quince
Finding quince isn't so much a matter of seeking them out in specialty stores, as waiting all year for them to turn up in grocery stores. You'll most likely find them in larger supermarkets from mid-fall through early winter, sometimes in the surrounding months.
Print
rosewater olive oil quince cake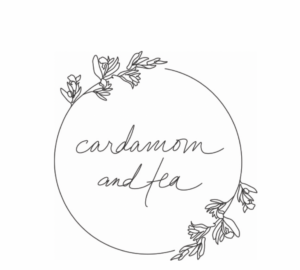 Prep Time:

25 minutes

Cook Time:

1 1/2 hours

Total Time:

2 hours

Yield:

8 servings
for the cake:
1

very large or

2

medium quince*, peeled, cored**, and cut into

1

-inch chunks

105g

extra virgin olive oil (

1/2 cup

)

2

large eggs (

110g

)

135g

sugar (

2/3 cup

)

10g

rosewater (

2 teaspoons

)

200g

flour (

1 1/2 cup

)

3/4 teaspoon

salt

1/2 teaspoon

baking powder

1/4 teaspoon

baking soda
for the glaze and decoration:
85g

powdered sugar (

3/4 cup

)

15g

lemon juice (

1 tablespoon

)

1/2 teaspoon

rosewater

1

drop pink food coloring (optional)
edible dried rose petals (optional)
Instructions
Bring a small pot of water to a boil. Once boiling, add the quince and reduce heat to low or medium-low, just to maintain a bare simmer. Let the quince cook for about 45 minutes. They're done once they're soft enough to pierce easily with a butter knife.
Strain the quince. Move to the bowl of a food processor fitted with the blade. Pulse until it's very finely chopped/puréed. You should end up with 1 cup (235g). It's ok to use a few tablespoons more if your quince were particularly large and you've got a smidge extra, but don't add very much more than 1 cup.
Preheat the oven to 350°F [180°C] and grease an 8×4" loaf pan.
Combine the quince purée, olive oil, eggs, sugar, and rosewater in a medium mixing bowl. Add the flour to the bowl and sprinkle the salt, baking powder, and baking soda evenly on top of the flour. Mix everything together, being very careful not to over-mix. Stop as soon as there are no dry patches of flour.
Pour the batter into the greased loaf pan. Bake for about 50 minutes, or until a paring knife inserted in the center comes out clean.
Let the cake cool on a rack for at least 30 minutes before decorating or slicing.
While you wait for the cake to cool, make the glaze: Whisk together the powdered sugar, lemon juice, rosewater, and food coloring. It's done once there are no more lumps. Keep covered and whisk it again right before pouring.
Drizzle the glaze on the cooled cake and immediately top with rose petals. Slice and enjoy. If you have any leftover, store at room temperature for a few days or in the freezer longer (never store in the refrigerator).
Notes
* Can substitute 235g (1 cup) unsweetened applesauce instead.
** Quince need to be cored a bit differently than other pome fruits (e.g., apples, pears, etc.). Split it open and use a small spoon (or measuring spoon/melon baller/corer) to scrape out the core and the stony area immediately surrounding the core. The core has the seeds and tough fibrous parts, but the area around the core also has some gritty bits, which you'll want to eliminate. You can tell you're done coring it once you no longer feel any rough gritty bits.