When I want an easy dessert, I look no further than the date! Bliss balls are well and good, but it's even easier (and much, much prettier!) to just combine a few ingredients and sandwich them together. These dessert dates have you covered when you can't be bothered to bring out the food processor.
Each of these easy dessert dates recipes (if you can even call them recipes!) is inspired by one of my favorite classic sweets. Five are gluten free, four are vegan, three are both.
persimmon pudding
ripe persimmons + cinnamon + nutmeg
Fill each date with a small wedge of persimmon. Sprinkle generously with cinnamon, and a little bit of nutmeg.
chocolate-covered pretzel
pretzel nuggets + chocolate
Fill each date with a pretzel and dip the bottoms in chocolate.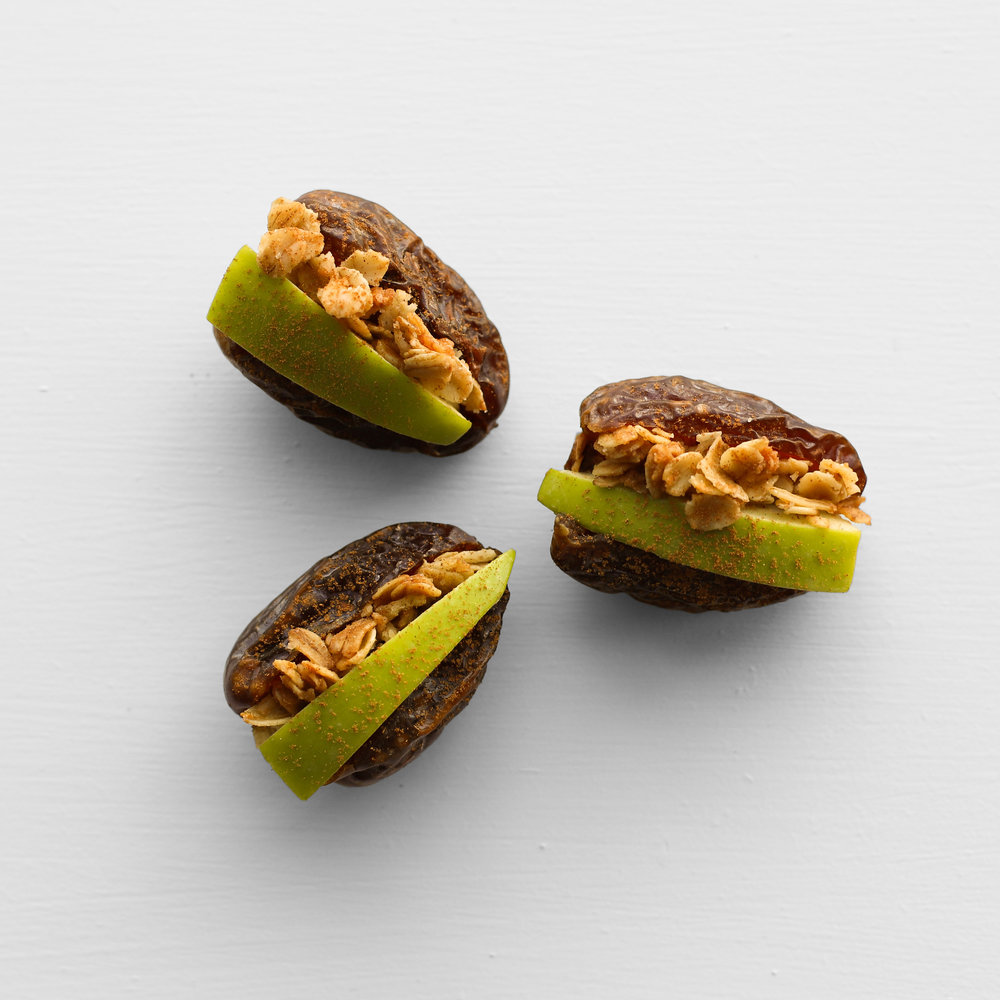 apple crisp
granny smith apple slices + streusel topping
For 8 dates: combine 3 tablespoons oats (gluten free, if necessary), 1 teaspoon sugar, a dash of cinnamon, nutmeg, and allspice, and 1 tablespoon butter (or 2 teaspoons oil). Microwave for 30 seconds just to melt, then stir. Cook for 30 to 60 more seconds, until crispy and golden brown.
Fill each date with a slice of apple, and pack the streusel topping around it. Sprinkle with cinnamon.
baklava
walnut + cardamom + chopped pistachios
Fill each date with a few broken walnut pieces. Roll the pistachios in a pinch or two of cardamom, and pack the pistachios in the remaining space.
raspberry cheesecake
cream cheese + honey + graham cracker crumbles + raspberry halves
Sweeten the cream cheese with a little honey (the date will add a lot of sweetness—you can even skip the honey if you'd like). Fill each date with a layer of graham cracker crumbs, a layer of cream cheese, another light sprinkle of graham cracker crumbs to garnish, and a halved raspberry.
pecan pie
shortbread + pecan
Cut or break the shortbread into small chunks. Fill each date with a chunk of shortbread and one pecan.
s'mores
roast mini marshmallow + graham cracker + chocolate dip
Roast the marshmallows with a culinary torch, gas stove, or warm them in the microwave for a couple seconds. Fill each date with a couple marshmallows and a chunk of graham cracker, and dip the bottoms in chocolate.
Use vegan marshmallows to make this vegan.
tiramisu
Turkish coffee + cocoa powder + honey + mascarpone
Roll the dates in equal parts finely ground coffee and cocoa powder (if the dates are dry and not sticky, brush them with a little water, let them sit for a few minutes, and dry off any excess water before rolling). Fill each date with honey-sweetened mascarpone, and dust with a little more cocoa powder.
banana split
banana + whipped cream + chopped peanuts + sprinkles + halved cherries
Fill each date with a banana slice. Top with whipped cream, peanuts, sprinkles, and a 1/2 maraschino cherry.
Print
easy dessert dates
Author:
Total Time:

2 minutes
medjool dates
your fillings of choice (find lots of ideas above the recipe)
Instructions
Slice each date open on one side with a paring knife, then remove the pit.
Pop the date open a little, fill with whatever ingredients you'd like, and enjoy.