My father-in-law makes a fabulous German apple pancake. And in the fourteen years I've known my husband, I've enjoyed it more times than I can even remember. If you've never had one before, it's basically a big, puffy, caramelized pancake for sharing. It's a lot like a Dutch baby, but the apples keep it from puffing up. So a German apple pancake has a more custardy texture. And while it's often flavored with cinnamon, lately I've been adding a little saffron too. This might come as a surprise if you're most used to seeing saffron in paella and the like. But it makes total sense if you're familiar with many Middle Eastern, North African, and South Asian desserts.
a note on using saffron in this German apple pancake
Saffron works wonderfully with apples and cinnamon, but it's important to make sure the flavors are subtle and balanced. A little adds a lovely aroma, but too much can taste medicinal and metallic. After a bit of tinkering with my recipe, I settled on thirty-five threads as the magic number. But it might vary a little depending on the quality and age of your saffron, so feel free to adjust it to your liking. Just make sure you don't add more cinnamon, which would overpower the saffron's delicate flavor.
If you don't have saffron at home, feel free to leave it out of the recipe entirely—it'll still be a wonderful cinnamon German apple pancake without it.
Print
saffron and cinnamon german apple pancake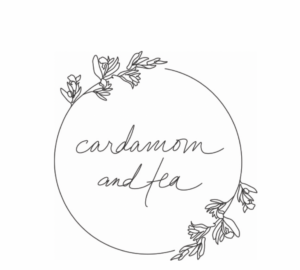 Prep Time:

20 minutes

Total Time:

30 minutes

Yield:

4 to 6 servings
35

threads saffron

14g

(

1 tablespoon

) water

100g

(about

3/4 cup

+

1 tablespoon

) all purpose flour

14g

(

1 tablespoon

) sugar

3g

(

1/2 teaspoon

) salt

240g

(

1 cup

) milk

3

large eggs (

170g

)

57g

(

4 tablespoons

) butter

0.5g

(

1/4 teaspoon

) cinnamon

50g

(

1/4 cup

) light brown sugar

3

granny smith apples (

530g

), peeled and cut into 3/4- to 1-inch pieces
Instructions
Steep 35 threads of saffron in 1 tablespoon of water for at least 10 minutes. Set aside until later.
Preheat the oven to 475°F (245° C) convection.
Whisk together the flour, sugar, and salt. Separately, whisk together the milk and eggs. Pour the wet ingredients over the dry, and whisk just until it comes together (don't worry about a few small lumps). Set aside.
Set a 10-inch cast iron skillet over medium heat, and place the butter in the skillet.
Once the butter melts completely, swirl to coat and add the apples to the skillet, along with the saffron and its soaking water. Stir occasionally for about 5 to 7 minutes, just until the apples slightly soften. Once softened, immediately add the cinnamon and light brown sugar, and stir to distribute evenly. Smooth the apples into 1 even layer. Pour the batter right on top of the apples (in the hot skillet, still over medium heat) and don't stir.
Immediately move the skillet to the oven, and bake for about 10 minutes. Once it's puffed around the edges, caramelized in spots, and cooked through, bring it out of the oven, and let it cool for 5 minutes before serving.