I first heard about Persian date frittatas from my Iranian-Assyrian friend Valia. You know how you can usually tell what something would taste like from a description? This was not one of those times. I couldn't quite wrap my head around the combination of flavors and textures, until I finally tried making it one day, and the clouds parted as soon as I took my first bite.
I've cooked this dish a lot over the last couple years, and now I have my preferred way of making it, with a handful of chives, a little pinch of cinnamon, and a few crumbles of feta for good measure. The way I assemble it is perhaps just a skosh fussy (although it's still relatively simple—way easier than buttermilk pancakes, for example), but you could totally go a different route and scramble everything together like an omelette. Yasmin Khan has such a recipe, which looks incredible.
I just love the way it looks with the concentric circles of dates popping out against the bright yellow eggs. I like to sear the dates in the pan on just one side, so that their exposed tops have a chance to caramelize a little under the broiler while the eggs finish baking. It makes for a gorgeous centerpiece at any brunch table, and it's easy to pull off with minimal effort.
Also, this week and next, I'm excited to be sharing some of my favorite Persian and Persian-inspired recipes. While my family is from Iraq and Syria, many other Assyrians are from Iran, so I try to include Persian recipes on Cardamom and Tea as often as I can. But while there's a lot of common ground and mutual influence among all our cuisines (and so much multi-cultural complexity within!), Persian food is really quite distinct from Iraqi food (which is also very different from Levantine food, and so on).
So when I include Persian food on my blog, it's always with a little bit more inhibition, because my only connection to it is through my Iranian friends, extended family, and readers, and not really through first-hand experience. While I've probably eaten and cooked a lot more Persian food than the average non-Persian, I'm certainly not an expert, and I hope I'm doing this dish justice. In any case, I guarantee that it's one of the most lovely breakfasts around. Thanks again to Valia for introducing me to it.
Print
persian date frittata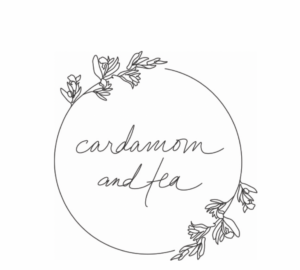 Total Time:

15 minutes

Yield:

4 to 6 servings
1 tablespoon

butter (Or, better—clarified butter. You can also substitute

1/2 tablespoon

olive oil)

14

small or

6

large dates, split lengthwise and pitted

5

large eggs, beaten

1/4 teaspoon

salt (or to taste)

3 tablespoons

crumbled feta

1 tablespoon

chopped chives
a pinch of cinnamon
suggestion: serve alongside some peppery greens, like watercress or arugula
Instructions
Pre-heat your broiler.*
Heat a 10-inch broiler-safe seasoned cast iron skillet or nonstick pan over medium heat for about 2 minutes.
Melt the butter, swirl to coat, and place the dates in the pan cut-side down. Let them cook for about 2 minutes without flipping them, until they slightly caramelize and soften.
Remove the dates from the pan, leaving the butter behind.
Add the eggs to the hot butter and scramble them for only about 1 minute. Salt them to taste (about 1/4 teaspoon).
After 1 minute, while they're still very runny, turn off the heat and place the dates on top of the eggs in a pretty pattern cut-side down. Gently press the dates into the eggs so that they stay in place.
Move the pan to the broiler. Cook, checking every minute or more (it takes 3 minutes to cook through with my broiler, but it varies a lot from oven to oven).
Once it has cooked through, garnish with feta, chives, and cinnamon, and serve (optionally with some watercress or arugula on the side).
Notes
* If you don't have an oven, you can make this on a stovetop instead. Cook the dates for about 2 minutes on each side (instead of just 1 side). Proceed with the recipe as usual, until right after you arrange the dates on the surface. Cover the pan with a lid and continue cooking for a couple more minutes, just until the top sets from the steam.