And my most visited post of 2017 is . . . stuffed dates! This time around, I thought I would revive the concept of stuffed dates eight ways with a bunch of new ideas (and a few of my favorites from last time) organized around a particular theme: classic desserts.
Five are gluten free, four are vegan, three are both. Most are healthy, or at least healthy-ish. And isn't that just the balance you want to strike for your New Year's Eve party tomorrow? If I see another Christmas cookie this week, I might scream, but I don't feel ready to re-commit to healthy eating just yet. Late December is all about walking that line, and then hopefully bringing some of that balance into the new year with us, despite all our best intentions to become perfect people.
And why not ring in the new year in style, and with minimal effort? Just pit a few dates, cobble together some odds and ends, and you've got something nourishing, simple enough that you don't even need a kitchen, and as cute as a button. Most of them are phenomenally portable for packed lunches, potluck offerings, and airplane snacks. On the other hand, date energy balls, while also portable and healthy, require a food processor, and often end up looking like utilitarian blobs, which are tasty and get the job done, but aren't so easy on the eyes.
Stuffed dates also make it easy to accommodate multiple dietary restrictions at one time. Need something that's both dairy and gluten free? Try the baklawa stuffed date! Need a dessert that's grain free? Try the tiramisu date! Need something for your vegetarian paleo friend who is carb-loading for a marathon? Try the persimmon pudding stuffed date! (but check with them first because that's kind of a lot).
persimmon pudding
ripe persimmons + cinnamon + nutmeg
Stuff each date with a small wedge of persimmon. Sprinkle generously with cinnamon, and a little bit of nutmeg.
chocolate-covered pretzel
pretzel nuggets + chocolate
Stuff each date with a pretzel and dip the bottoms in chocolate.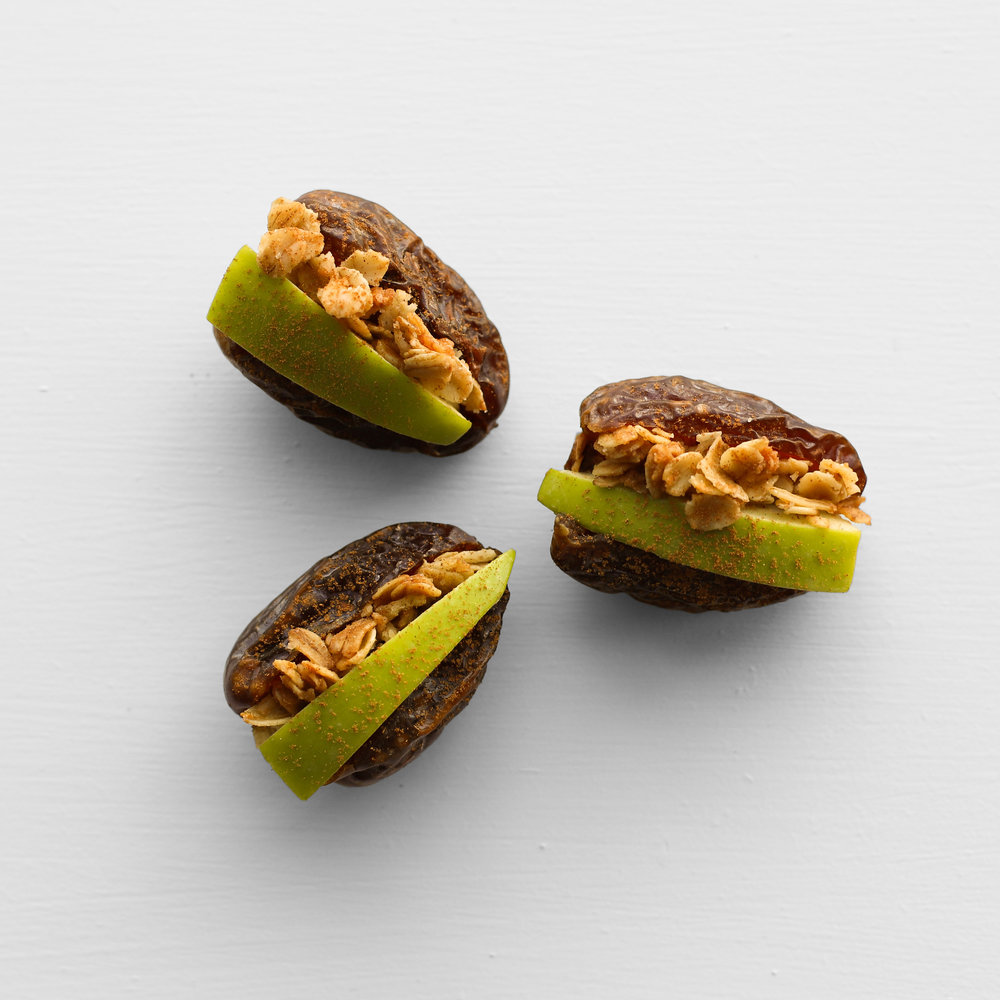 apple crisp
granny smith apple slices + streusel topping
For 8 dates: combine 3 tablespoons oats (gluten free, if necessary), 1 teaspoon sugar, a dash of cinnamon, nutmeg, and allspice, and 1 tablespoon butter (or 2 teaspoons oil). Microwave for 30 seconds just to melt, then stir. Cook for 30 to 60 more seconds, until crispy and golden brown.
Stuff each date with a slice of apple, and pack the streusel topping around it. Sprinkle with cinnamon.
baklawa
walnut + cardamom + chopped pistachios
Stuff each date with a few broken walnut pieces. Roll the pistachios in a pinch or two of cardamom, and pack the pistachios in the remaining space.
raspberry cheesecake
cream cheese + honey + graham cracker crumbles + raspberry halves
Sweeten the cream cheese with a little honey (the date will add a lot of sweetness—you can even skip the honey if you'd like). Stuff each date with a layer of graham cracker crumbs, a layer of cream cheese, another light sprinkle of graham cracker crumbs to garnish, and a halved raspberry.
pecan pie
shortbread + pecan
Cut or break the shortbread into small chunks. Stuff each date with a chunk of shortbread and one pecan.
s'mores
roast mini marshmallow + graham cracker + chocolate dip
Roast the marshmallows with a culinary torch, gas stove, or warm them in the microwave for a couple seconds. Stuff each date with a couple marshmallows and a chunk of graham cracker, and dip the bottoms in chocolate.
Use vegan marshmallows to make this vegan.
tiramisu
Turkish coffee + cocoa powder + honey + mascarpone
Roll the dates in equal parts finely ground coffee and cocoa powder (if the dates are dry and not sticky, brush them with a little water, let them sit for a few minutes, and dry off any excess water before rolling). Stuff each date with honey-sweetened mascarpone, and dust with a little more cocoa powder.
banana split
banana + whipped cream + chopped peanuts + sprinkles + halved cherries
Stuff each date with a banana slice. Top with whipped cream, peanuts, sprinkles, and a 1/2 maraschino cherry.