Last December, so many friends and readers made my cardamom rose gingerbread cake, so this year I wanted to share a new dessert showstopper with a similar flavor profile. So here it is—sticky toffee gingerbread with no-churn rose ice cream! It's got everything we all love about cardamom rose gingerbread cake, but it's got that whole cold ice cream vs. hot toffee sauce thing going for it.
It's funny, the hot-and-cold dessert phenomenon has always kind of stressed me out, because I'm a slow eater, and it seems to turn dessert into a race to finish eating before the ice cream melts. So if you feel similarly, feel free to serve the ice cream on the side instead. Or if you're well-adjusted, you can just go ahead an embrace the meltiness, because (apparently!) that's part of the beauty of the experience. Either way, I think you're gonna enjoy this one.
No churn ice cream reminds me a lot of kulfi, especially here with the rosewater. But if you want it to be smoother and more like Philadelphia-style ice cream, with absolutely no discernible ice crystals, you can add a tablespoon or two of vodka to the mix (I've included instructions in the notes below the recipe). I've tried it both ways, but I ended up developing the final version of this recipe without the vodka, because I wanted to make sure that this recipe could be enjoyed by every ice cream partaker at the table—if you're adding the vodka for a smoother texture, of course be sure to let your guests know there's a bit of alcohol in the ice cream. I've also included instructions below the recipe if you want to skip the ice cream altogether—you can always make rosewater whipped cream instead, which is just as delicious.
Before I leave you with the recipe, I just wanted to wish you all happy holidays! I'll be celebrating Christmas with my husband Simon and my sister Meghan, who's visiting us in Melbourne next week, and we'll also celebrate Hanukkah by frying up some latkes with Simon's dad's recipe (ICYWW, I'm team sour cream and applesauce swirled together). This month I've scrunched all of my holiday recipes together and posted a bit more than usual, so I'm gonna be taking the next week off, and will see you soon after Christmas with a lovely little bread pudding recipe. Happy holidays, and hope you enjoy some time to recharge and enjoy the season however your heart desires.
Print
sticky toffee gingerbread with rose ice cream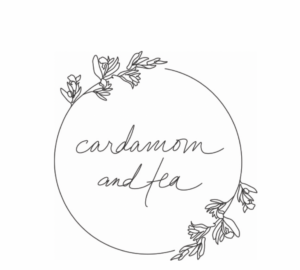 loosely adapted from Mary Berry's recipe for sticky toffee pudding
Prep Time:

35 minutes

Total Time:

2 days

Yield:

8 servings
for the rose ice cream*
460g

heavy whipping cream (

2 cups

)
One

395g

can sweetened condensed milk (

14 oz

)

2

–

3

teaspoons rosewater **
A few drops pink food coloring (optional)
for the toffee sauce:
115g

heavy cream (

1/2 cup

)

45g

butter (

3 tablespoons

)

65g

brown sugar (

1/3 cup

)

20g

molasses (

1 tablespoon

)

1 teaspoon

rosewater (

5g

)
A pinch of salt
for the cake:
100g

melted butter (

7 tablespoons

), plus extra for greasing the pan

175g

brown sugar (

3/4 cup

+

2 tablespoons

)

2

large eggs (

110g

)

55g

molasses (

3 tablespoons

)

290g

whole milk (

1 1/4 cup

)

1 tablespoon

rosewater (

15g

)

225g

flour (

1 3/4 cup

)

1 tablespoon

ginger powder (

7g

)

1 teaspoon

baking powder (

4g

)

1 teaspoon

baking soda (

5g

)

1/2 teaspoon

salt (

3.5g

)

3/4 teaspoon

cardamom (

2g

)

1/2 teaspoon

cinnamon (

1.5g

)
Edible rose petals
Instructions
For the rose ice cream: Whip the cream to stiff peaks.
In a separate bowl, combine the sweetened condensed milk, rosewater, and food coloring.
Fold 1/2 of the sweetened condensed milk mixture into the whipped cream, then carefully fold in the last 1/2.
Pour the mixture in a loaf pan, cover with foil or plastic wrap, and freeze overnight.
For the toffee sauce: Combine all ingredients in a small saucepan, and bring to a simmer over medium heat, stirring constantly. Once it comes to a simmer, drop the heat to medium-low and continue to simmer for 3 minutes to thicken slightly.
Store in the refrigerator overnight, and slightly warm it to warm room temperature on the stove or in the microwave when you're ready to use it (toffee sauce can be made at the last minute, but it's easier to just make the day before).
For the cake: Preheat the oven to 350°F (180°C) convection (if you don't have convection, it might just take a little longer to bake). Butter an 10-inch cast iron skillet***, line it with a parchment round, and then butter the parchment.
In a large mixing bowl, combine the 7 tablespoons melted butter, brown sugar, and eggs, and whisk together for about 30 seconds. Add the molasses, whole milk, and rosewater, and whisk together until it's completely incorporated.
Place a large sieve over the mixing bowl, and sift the flour, ginger, baking powder, baking soda, salt, cardamom, and cinnamon directly onto the wet ingredients. Mix everything together until there are just a few small lumps (don't overmix).
Transfer the batter to the greased cast iron skillet and bake for about 40 minutes, until a toothpick inserted in the center comes out clean.
Let it cool to warm room temperature in the pan.
Top with some of the toffee sauce, then a few scoops of the ice cream, followed by the rose petals. Serve right away with extra sauce and ice cream on the side.
Notes
* Most no-churn ice creams are a bit less fine-textured than churned ice creams (think, Indian kulfi, e.g.). No-churn ice creams that have a finer texture almost always have a few tablespoons of hard liquor, which you are totally welcome to add here, in the form of 2 tablespoons of vodka mixed with the sweetened condensed milk. Be sure to let your guests know that there's a little bit of booze in the ice cream (and obviously don't serve it to children). It'll be lovely either way! If you want to avoid the question all-together, you can just whip up some heavy cream with little bit of sugar and rosewater (and pink food coloring, if you'd like), stop at soft peaks, dollop it on top, and call it a day.
** Different brands of rosewater will have different strengths, so make sure you taste and adjust as needed (if you think yours might be super strong, add it gradually in all 3 components of this cake). The ice cream should have a medium rose flavor, but not too perfumey. The cake should only have a subtle rose flavor, which highlights the cardamom and other spices. The toffee sauce should have a medium rose flavor, but again, not too perfumey. If you want to go big with the rosewater, feel free to try a little more in the ice cream only, which you can always serve sparingly if it turns out too overwhelming to eat by the spoonful.
*** You don't absolutely need a cast iron skillet here. If you use an aluminum cake pan instead, it might just take less time to bake. I like using a cast iron skillet for this because I love things that can go from oven to table in an aesthetically pleasing way. But it's totally not a big deal to use something else.
To make ahead and store: The cake can be made up to 3 months ahead of time and stored tightly wrapped in the freezer. If you're making it the day before serving, you can store it for about 16 hours tightly wrapped at room temperature. Don't store the cake in the refrigerator, as it will stale more quickly (like all cakes and floury baked goods). The ice cream can also be made way ahead of time and kept tightly covered in the freezer. The caramel sauce can be kept in the refrigerator for a few days; slightly warm it to warm room temperature on the stove when you're ready to use it. Bring everything together when you're rea
dy to serve. Leftovers keep really well in the freezer (microwave individual slices for a few seconds, just to warm them through… heaven!).