When my husband and I got married about eight years ago, we hired Hoosier Mama Pies to cater the desserts at our wedding. This was back when they just had a tiny little storefront in Ukrainian Village with a couple bistro tables. They delivered thirty perfect pies to our big backyard wedding. The next day, there were two or three left over, which we packed up and took to the cute little A-frame we rented on the Gold Coast of Minnesota. Little did we know that we were honeymooning in pie country. So once we ran out of lemon meringue, sour cherry, and banana cream pie, we started finding excuses to drive by Bettys'. Their pies were the stuff of imaginary tea parties. And we spent the rest of the week accumulating empty bakery boxes in the kitchen.
While nothing can beat that summer, I have a feeling we're about to have another summer of pies. And this one is the perfect way to kick things off. It's not really berry or stone-fruit season yet, but I think it's finally starting to feel like pie season. This one in particular is inspired by my favorite toast, topped with honey-sweetened tahini, banana slices, and a little pinch of cardamom. Sesame halva has a very sharp and earthy flavor, which works perfectly with mellow creamy flavors like banana and cardamom. It's the banana cream pie you know and love, with just a little extra something.
why this banana cream pie is wonderful
This pie has halva in two different places: crumbled into the filling and sprinkled on top with extra banana slices. This gives it a really nice combination of textures. The halva sandwiched between the banana slices and cardamom custard gets a bit gooey, with just the slightest bit of grit. And the halva on top has that familiar honeycomb crunch. If not for the topping, it wouldn't have the texture you expect of something with halva in it. And without the halva in the filling, the topping would feel like an afterthought. But together, it's my perfect banana cream pie.
a note on blind baking
Since you don't bake the filling, banana cream pie requires blind-baking the crust, which usually means using pie weights. But I absolutely can't stand pie weights. Blind baking with weights is annoying. But to be honest, blind baking without them is also kind of annoying. So you just need to pick your poison and decide which sounds like the best option to you.
I've made peace with blind baking without weights, and I don't mind it anymore. But either case will take some getting used to if you've never done it before.
If you do bake with weights, you'll need to make sure the bottom browns nicely, but that the edges don't over-brown. You can bake it with parchment and weights for the first half, then remove the weights once set, make a foil crown to shield the edge of the crust, and let the bottom bake the rest of the way without the weights (see? Such a pain). In my experience, it's really hard to get it to bake perfectly evenly this way. The edges usually get a little too toasty even with the foil shield. Plus the bottom doesn't turn out quite as flaky and tender as I like.
If you choose to bake without weights (yes, join the dark side!), you'll have to do a few things differently. Make sure that the edges of the crust extend over the side very slightly. Also be sure to let the dough rest and chill long enough. And dock the heck out of it (including a few minutes into baking as it starts to puff up). There's kind of an art to letting the edges extend slightly to make sure they don't melt down the sides. And there's an art to making sure the bottom doesn't puff up too much. But once you get it right, it results in a perfectly evenly baked and flaky crust.
I describe this method in the recipe below (and you can look at the photos above to get an idea of how to shape it). But here's the gist: trim just a little of the excess so it still hangs over the side. Fold the edges under so that they still slightly extend beyond the edge of the pie pan (you shouldn't be able to see the pan from above). Crimp as usual.
And if you just can't be bothered, remember that there's absolutely no shame in using a commercially frozen pie crust.
Print
banana cream pie with halva and cardamom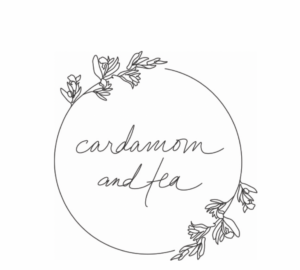 Prep Time:

35 minutes

Total Time:

4 1/2 hours

Yield:

8 servings
for the crust:
200g

all purpose flour (about

1 1/2 cups

)

3.5g

salt (

1/2 teaspoon

)

130g

cold unsalted butter, cut into chunks (

9 tablespoons

)

60g

cold yogurt (

1/4 cup

)

15g

cold water (

1 tablespoon

)
for the pastry cream filling:
270g

milk (

1 cup

+

2 tablespoons

)

50g

sugar (

1/4 cup

)

8g

all purpose flour (about

1 tablespoon

)

10g

cornstarch (about

1 tablespoon

+

1 teaspoon

)

2g

salt (

1/4 teaspoon

)

1

large egg (

60g

)

40g

butter (

3 tablespoons

)

1/4 teaspoon

cardamom (

0.5g

)***

1/8 teaspoon

vanilla extract (

0.5g

)
For the filling and toppings:
2

ripe bananas, sliced between 1/4- to 1/2-inch thick (

190g

out of their peels)
baked pie shell (above)

75g

sesame halva****, crumbled (

3/4 cup

)
warm pastry cream (above)

20g

sugar (

1 1/2 tablespoons

)

175g

cold whipping cream (

3/4 cup

)

1

pinch of salt
more halva and bananas for topping (I used 1/3 cup more halva and 1 banana)
Instructions
To make the crust: Place the flour, salt, and butter in a food processor fitted with the blade attachment. Pulse several times, until the butter blends into the flour, and there aren't any lumps bigger than a tic tac. Add the yogurt, and pulse 2 or 3 times to distribute. Drizzle in the water.* Pulse a few times until it can be squeezed together into a pliable and smooth dough (don't over-process).
Shape the dough into a ball, flatten the ball into a disc, cover with plastic wrap, and refrigerate for 30 minutes.
On a lightly floured surface, roll the chilled dough out to between 1/8- to 1/4-inch thick; it should be wider than the pie pan (about 13-13.5 inches). Rotate occasionally as you work, but try not to handle the dough too much.
Once it's rolled out, gently wrap it around your rolling pin to transfer it to the pie pan. Unroll it onto a 9-inch pie pan and gently press the dough into place so it's in contact with the entire pan. Use scissors to trim some of the excess off, but leave about 3/4-inch of dough hanging past the edge of the pan. Go back and fold the edge under itself so it still overhangs by just about 1/8-inch (you shouldn't be able to see the pan from above). Crimp, let it sit at cool room temperature for 10 minutes, then refrigerate for 90 minutes.
Preheat the oven to 400°F (205°C) convection once the dough is almost done chilling.
Once the pie shell is ready to bake, dock it all over with a fork, and bake for about 20 minutes total, until golden brown. About 5 minutes into baking, check on it to see if it's sliding or puffing too much on the bottom. Take it out and dock it again with a fork to make it collapse, and nudge it back into place if it's shrinking/sliding. Put it back in the oven, and check on it again after another 5 to 10 minutes, repeating if it's puffing up again. Or feel free to use pie weights instead if this all sounds like a hassle (see note). **
To make the pastry cream: In a medium saucepan, bring the milk to a simmer over medium heat, stirring occasionally to make sure the bottom isn't scorching.
Combine the sugar, flour, cornstarch, salt, and egg in a medium stainless steel mixing bowl. Whisk together until it's totally lump-free. Once the milk comes to a simmer, slowly drizzle it into the egg mixture while whisking constantly. Return it to the medium saucepan, and set it over medium heat. Don't stop whisking as it heats—remove from heat once it thickens and big bubbles start to break to the surface.
Immediately add the butter, cardamom, and vanilla, and whisk constantly until the butter melts from the residual heat and and fully mixes in. Move onto the next part while the custard is still warm (or let it rest off the heat for 1-2 hours, and then reheat over very low heat while whisking constantly, just until it is pourable again).
To fill the pie: Arrange the banana slices on the bottom of the baked pie shell. Top with the 3/4 cup/75g halva crumbles. Pour on the warm pastry cream, and halfway through give the pan a few bangs to make sure there aren't any trapped air pockets. Smooth it out, and refrigerate for at least 90 minutes, until it's completely chilled.
While you're waiting on the pie to chill, place the sugar in the bowl of your stand mixer (or a stainless steel bowl), and place it along with the whisk attachment (or a regular whisk) in the refrigerator to chill.
When the pie is ready to come out of the refrigerator, whip the cream: add the whipping cream and a pinch of salt to the sugar, and beat at medium-high speed, until it reaches medium peaks (don't beat it all the way to stiff peaks unless you plan to pipe it).
Top the pie with the whipped cream, not quite spreading it all the way out to the edges, and making little swooshes on the surface with a small offset spatula or knife. Top with a few banana slices, some halva crumbles, and a tiny pinch of cardamom. You can also serve it at the table with extra toppings (especially extra halva for anyone who can't get enough sesame). Store in the refrigerator.
Notes
* If you measured precisely in grams, you can add the water all at once. If you're using volume, you should add the water in 2 installments, and you might even need to add a bit more to get it to hold together (volume is less precise).
** To prevent shrinking and puffing in the first place, you can use pie weights. If you go the pie weight route, you don't need to do the whole thing with the folded-under crust, and you don't need to let it rest in the refrigerator for so long. I hate pie weights, and always use this method to avoid them, but some might find this technique more trouble than it's worth, and it's totally a matter of preference. If you use pie weights, your pastry won't be as flaky and puffy, and you'll need to bake it for a few minutes without the weights to make sure the bottom browns. If you're new to baking, you might want to try using weights, because it's a little easier and failproof.
*** The cardamom should be a background flavor, so make sure you don't add too much. If you add too much it will taste like soapy perfume, so remember that less is more.
**** You can find halva in most Middle Eastern markets, as well as some supermarkets with good international aisles.