I've been on a little bit of a cookie recipe kick lately, just in time for the holidays. After coming up with chewy-crispy ginger snaps with rosewater and cardamom, I thought it would be nice to make another molasses cookie, but this time less dainty, with a more serious crunch and some earthier flavors, instead of the floral headiness of cardamom and rose. My mind immediately went to tahini molasses cookies, and I did a quick google search to see if anyone beat me to the punch, when I discovered something totally horrifying.
If you search "tahini molasses cookies," you'll find nothing crunchy, gluteney, buttery, sprinkled with coarse sugar, or dipped in a big glass of milk. Instead, there are just puffy blobs of dates, molasses, tahini, and/or banana. Or in the words of a character on my new favorite show, on the subject of frozen yogurt: "there's something so human about taking something great and ruining it a little so you can have more of it." And that just won't do here, because there's so much more to love about tahini and molasses than their health benefits, especially when they're together in these crunchy, buttery, and deeply flavored cookies.
more cookies
If you're on a roll, check out some of my favorites:
More Cardamom and Tea cookie recipes
Nik Sharma's Checkerboard Cookies
Danielle Jones' Second Generation Slice & Torte Chocolate Chip Cookies
Namiko Chen's Green Tea Cookies
Ankiet Gulabani's Cookie Baking Guide
Print
tahini molasses cookies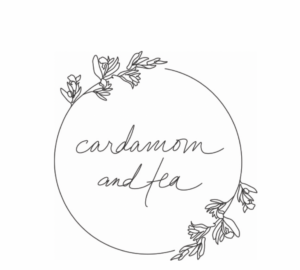 Prep Time:

25 minutes

Total Time:

1 hour

Yield:

about 2 dozen cookies
12 ounces flour (about 2 1/2 cups)
1 teaspoon baking soda
2 sticks butter (16 tablespoons)
1/2 teaspoon salt
1 1/4 cups dark brown sugar
1 egg
1/4 cup molasses
1/2 cup tahini
optional: coarse sugar for sprinkling
Instructions
Preheat the oven to 350° F [180°C] (convection). *
Sift together the flour and baking soda, and set aside.
Cream together the butter, salt, and brown sugar, until everything becomes a bit fluffy (about 1 minute). **
Add the egg and mix it into the butter and sugar until it's completely incorporated. Add the molasses and tahini, and mix together until everything is incorporated. Scrape down the sides and the bottom of the bowl, and mix together for another 15 seconds.
Add the flour mixture to the wet ingredients, and carefully combine just until everything comes together, avoiding over-mixing.
Use 2 spoons or a cookie scoop to drop heaping tablespoons of the cookie dough onto parchment-lined sheet pans. The cookies will spread, so leave a couple inches between them.
Use your fingertips to slightly flatten each cookie ball, and then sprinkle with coarse sugar (if using).***
Bake for about 13 to 14 minutes. At first, they'll spread out and puff up, but then they'll collapse, and you can tell they're done once they've totally flattened out and started to turn a tiny bit darker brown. They'll still be a little soft right out of the oven, so simply slide the parchment off of the sheet pan and let them cool in place. If you find that they're undercooked once they've cooled, simply slide the parchment back onto the sheet pan and give them another minute or two in the oven. Repeat with the remaining cookie dough.
Notes
* If you're not using a convection oven, you may need to slightly increase the temperature and/or cook them just a minute or two longer, and rotate the sheet pans halfway through baking.
** You can do this by hand, with a handheld mixer, or using the paddle attachment of your stand mixer.
*** I like to sprinkle sugar over the center of each cookie, instead of sprinkling it evenly (as pictured here), but you can do whatever you think looks best, or leave the sprinkling of sugar out altogether.