While writing this post, I've realized that I have no idea how to define kleicha. It's one of those foods that shows up in a lot of forms, with a few different stuffings, and even in a variety of doughs. You might find a kleicha that's been made with date paste, rolled up in shortcrust pastry, and sliced to reveal beautiful spirals before baking. Or you might find something like my aunt Masy's walnut kleicha, made with a buttery yeast-risen dough, which is stuffed with cardamom-spiced walnuts, and expertly crimped shut.
Some are made with ornate presses similarly to ma'amoul, some are shaped into unpretentious little circles, some look exactly like fig newtons, some are even sprinkled with nigella or sesame seeds. They're not eaten for any particular holiday, and can be found at Christmas, Eid, and Easter. They're the national cookie of Iraq and have roots in ancient Assyria, but they're made nowadays by just about everyone, and they're popular in neighboring countries too. But while I can't figure out the essential feature uniting all of these cookies, all I know is that I want to eat every single one of them, especially the ones my Aunt Masy bakes.
While Masy is technically my grandmother's older sister, the two of them are always switching off who acts like the bossy big sister, depending on the situation. But when they bake together, you can always see them revert back to the natural order of things, with Masy as the older sister and Romy as the younger, because baking is Masy's turf, and we're all just doing our best to keep up with her. This summer, Masy taught me how to make kleicha, and I captured some classic Masy and Romy moments.
Learning to make kleicha from the expert was a humbling experience. I never quite got the crimping right, and I suspect it takes a lifetime of practice to make them as pretty as Masy's (none of mine are pictured here, thanks to my auntie food stylist. The only other person I know who rivals Masy's kleicha crimping is Amina from Hungry Paprikas).
But it was also humbling as a recipe developer. I'm always trying to find ways to make labor-intensive traditional recipes a little easier, but this summer, I've become more comfortable with the fact that an involved, high-maintenance cooking project sometimes just needs to be itself. So while the second coat of egg-wash halfway through baking might seem a little excessive, trust me that it's necessary to give the cookies the deep golden lacquer they (/you!) deserve. I mean, if we're willing to bang a pan every 2 minutes to get perfectly wrinkly cookies, brushing on a second coat of egg wash doesn't seem so crazy, right?
A few other things that make Masy's recipe perfect: Not to harp on the egg wash, but I love that she uses straight-up beaten eggs, instead of watering them down a little. The cookies turn out so miraculously deeply golden. For this to work, it's important that the eggs are at room temperature, otherwise they'll be too gloopy to brush on. Also, I love that Masy bakes them pretty much shoulder to shoulder. They puff up a little and end up growing into each other slightly, and I like the casual look of the resulting squared-off squished shapes. Plus, you can bake so many more at one time, and don't have to worry about crowding the pan.
One or two things I changed from Masy's recipe: I like to dock them after the egg wash goes on, because the holes don't get as stopped up, which means that you're less likely to have to dock them a second time halfway through baking (but again, seriously don't forget to brush them with egg wash a second time). Oh and I made sure this recipe has just enough stuffing for the amount of dough, and I standardized the size stamp and amount of filling—but no matter what you're stamping them with, just pace yourself as you go and they'll turn out great.
Print
walnut kleicha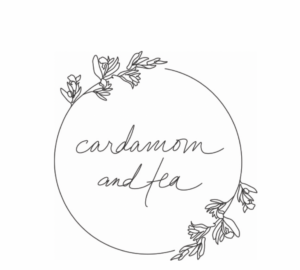 Prep Time:

1 hour

Total Time:

3 hours

Yield:

about 4 dozen cookies, depending on how big you make them
for the dough:
1 tablespoon

yeast

1 teaspoon

sugar

1 tablespoon

vegetable oil

1/2 cup

115° F water

30 ounces

all purpose flour (about

6 1/2 cups

)

1 1/2 teaspoons

salt

1 cup

sugar

2 1/4

sticks butter (

9 ounces

), just melted (not hot)

1 cup

115° F whole milk
filling and baking
2 cups

coarsely ground/finely chopped walnuts (from

6 3/4 ounces

)

1/2 cup

sugar (

4 ounces

)

1/2 teaspoon

cardamom

1/4 teaspoon

salt

2

large room temperature eggs, beaten (for the egg wash)
(optional: sesame seeds for sprinkling)
Instructions
Make the dough: Combine the yeast, sugar, vegetable oil, and water in a large bowl. Stir together until the yeast dissolves, cover with plastic wrap and a kitchen towel, and leave at room temperature for about 15 minutes.
Once the starter is very foamy, add the flour, salt, sugar, melted butter, and whole milk, and stir together with your hand. The dough will start to form a shaggy blob, which will come together into a dough after a minute of kneading in the bowl. Continue kneading in the bowl for a couple more minutes, until it smooths out quite a bit more, but don't worry about getting a perfectly smooth ball of dough.
Cover the bowl with plastic wrap, wrap the bowl in a towel, and leave it in a warm room temperature and/or insulated place to proof for 1 hour (e.g., on top of the refrigerator, over an unlit gas stove, or in an off oven).
Make the filling: Stir together the walnuts, sugar, cardamom, and salt. Set this filling aside.
Move the dough to the counter and divide into 2 pieces. Roll one piece out to about 1/8-inch thickness. Work on a non-porous, smooth surface, so you won't need flour to keep the dough from sticking. Once the dough is rolled out thinly (about 1/8 inch), let it rest for a few minutes until it no longer quickly shrinks when you lift it off the counter.
Once the dough has rested, use an approximately 3 1/2 inch round cookie cutter to stamp circles out of the dough. Once the rounds are stamped out, collect the scraps into a ball, and let them rest while you fill the rounds. Fill like so: hold a round in the palm of your hand, and make sure it hasn't shrunk back up (flatten it with your fingertips if you need to). Spoon almost 1 tablespoon of filling onto one side of the dough, leaving a border around the edges. Fold the other side over, and crimp it shut (fold one corner over while pinching the edge you're creating, then fold the next little bit over and pinch it, continuing down the edge until it's done).
Once you're done filling the first batch, preheat the oven to 375° F while you let them rise on a parchment-lined sheet pan for about 15 minutes (they should pretty much be shoulder to shoulder, like in the photos above, and they won't rise very noticeably in the 15 minutes). Brush with egg wash (save the extra), dock each with a fork about 2 or 3 times, and then bake for about 25 minutes total. Halfway through baking, pull them out of the oven, brush with egg wash again (and dock them again if they're too puffy), and let them bake the rest of the way, until they're deeply golden brown.
While the first batch is in the oven, repeat with the remaining dough and filling, until you run out (pace yourself while you work). Store at room temperature for up to 12 hours, or the freezer for up to 3 months.